Shelling report from Tahiti

Author : Michel Balleton & Patrick Marti, 2012
Dear visitors, here are some nice live shell pictures that come from French Polynesia ! Many thanks to Michel & Patrick for sharing their recent finds.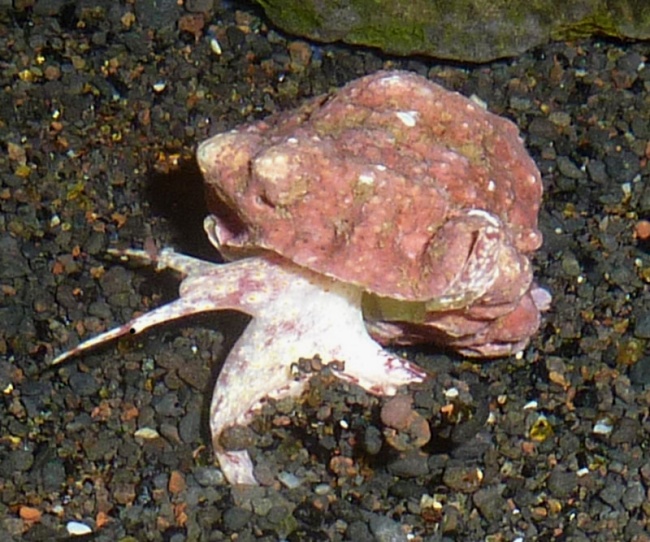 Bursa asperrima (Dunker, 1862)
Ce Bursidae possède un canal postérieur allongé et profond, allant bien au-delà de l'ouverture.
Sa coquille encroûtée est lourde et épaisse lui donnant un aspect pustuleux et noduleux. Elle est également marquée de varices axiales .La columelle est plissée Le labre est denticulé. Son apex est le plus souvent tronqué. L'animal de couleur blanchâtre parsemé de rose est doté d'une longue trompe et d'un opercule corné. Elle vit principalement en eau peu profonde sous les blocs de corail mort près des récifs barrière .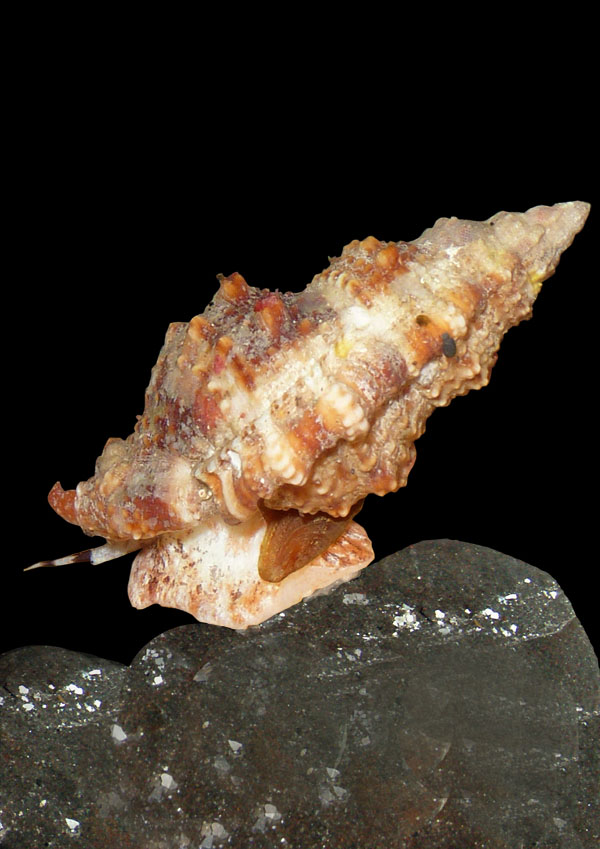 Bursa granularis (Röding, 1798)
A l'âge adulte de taille supérieure à la précédente, de forme plus allongée et moins encroûtée La coquille a un aspect plus granuleux. Si la columelle et le labre sont fortement denticulés, les varices axiales sont peu marquées. Chez certains individus les interstices de la columelle présentent près du canal anal une coloration brune. Elle vit sur des fonds détritiques sous les blocs de coraux morts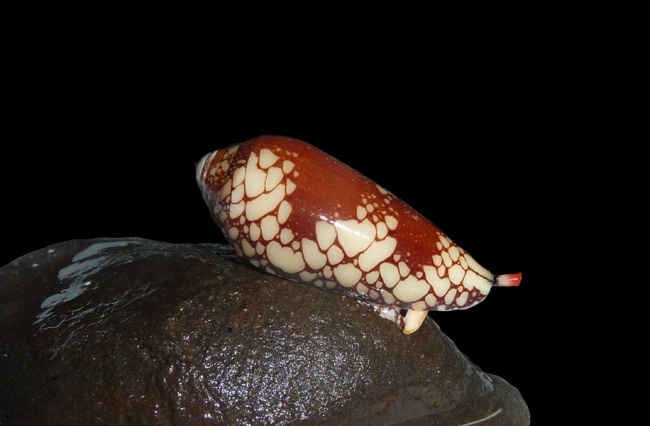 Conus episcopatus da Motta, 1982
Ce spécimen fut récolté uniquement pour le plaisir de vous le présenter. Il est retourné dans son élément le jour même de sa capture. Ce cône se trouve la journée dans les poches de sable sous les blocs de coraux morts près du récif barrière . En Polynésie il semble fréquenter les eaux peu profondes de nos lagons.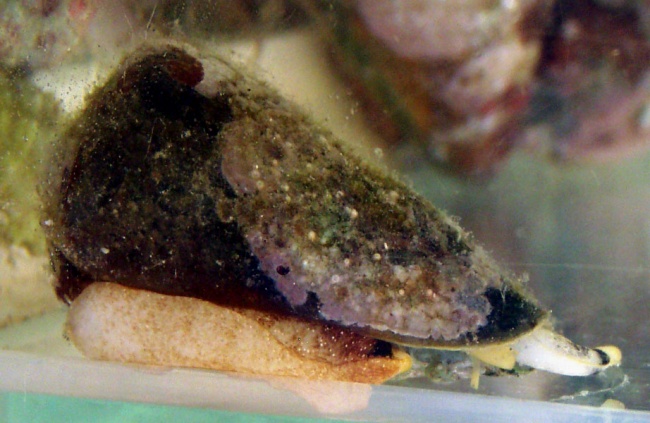 Conus lividus
Malgré un périostracum épais,cette espèce au test encroûté présente souvent des reprises. La forme typique qui présente sur plus de la moitie du test de fines granulosités en lignes spirales se récolte sur les substrats durs, alors que sur les fonds sableux elles ont un test plus lisse et une couleur plus foncée.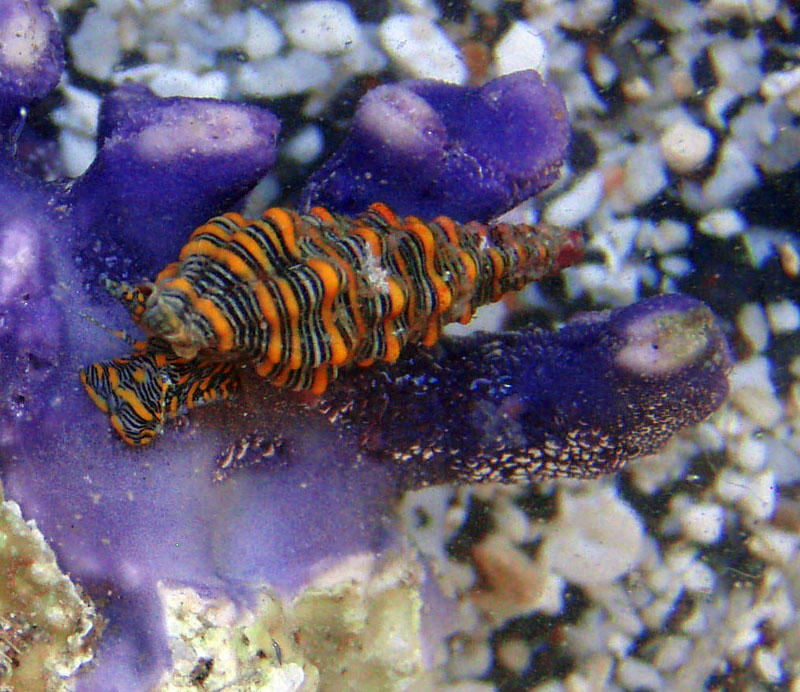 Dolicholatirus noumeensis en bon état. Rarement photographié vivant son manteau prend le mimetisme de sa coquille ..D'une taille de 14,2 mm, ce spécimen assez rare en Polynésie fait partie de la famille des Fasciolariidae. Il a été capturé par 19, 7 m de fond sur un pinacle.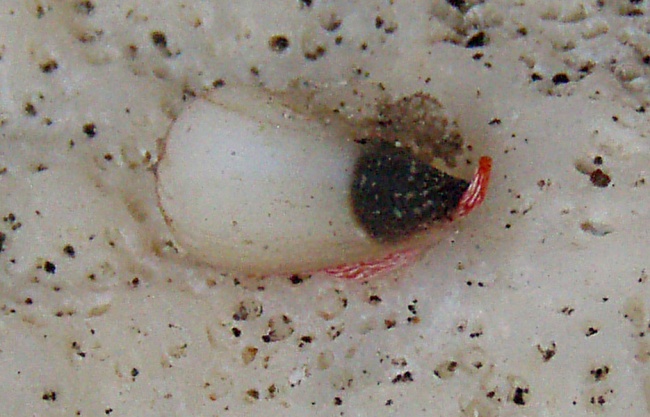 Deux spécimens de Conus mcbridei furent également capturé et photographié. Je te joins la photo de l'un deux l'autre était squatté par un Bernard-l'hermite.La taille du spécimen vivant est de 9, 2 mm.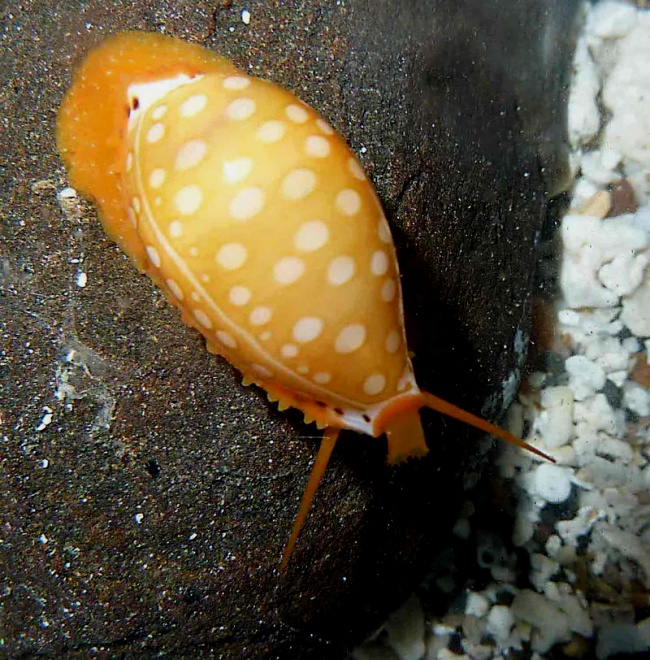 Pour la Cypraea cumingii , vivante par 10 m de foind sur un substrat dur couvert d'éponges oranges. La photo a été prise hors de son biotope elle mesure 20,4 mm.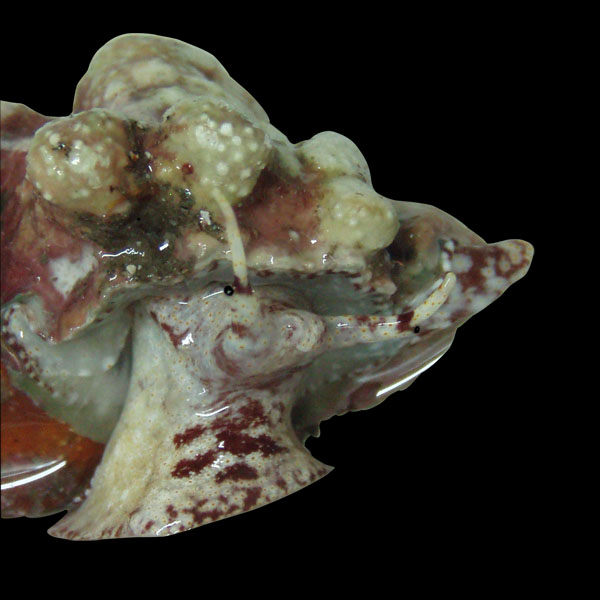 Détail de la tête d'une Bursa cruentata.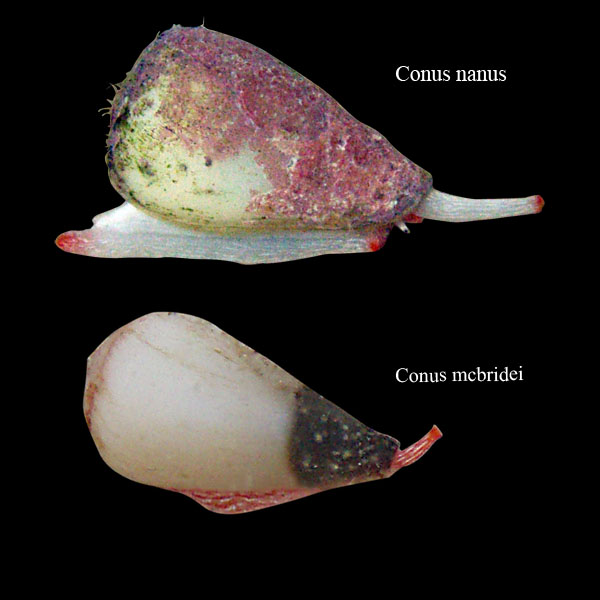 Photo d'un Conus nanus vivant et d'un Conus mcbridei vivant.Si pour le C.nanus cela a été relativement facile, ce n'est pas le cas du C.mcbridei. (Il semble plus timide…)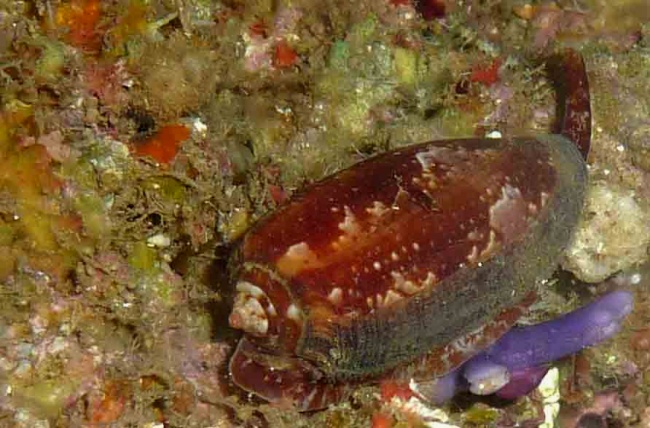 Pour le Conus obscurus , il a été trouvé près du récif barrière ( 1 à 2 mètres de la barrière ) sous une grosse dalle de corail mort dans 1,5 m d'eau à peu près.